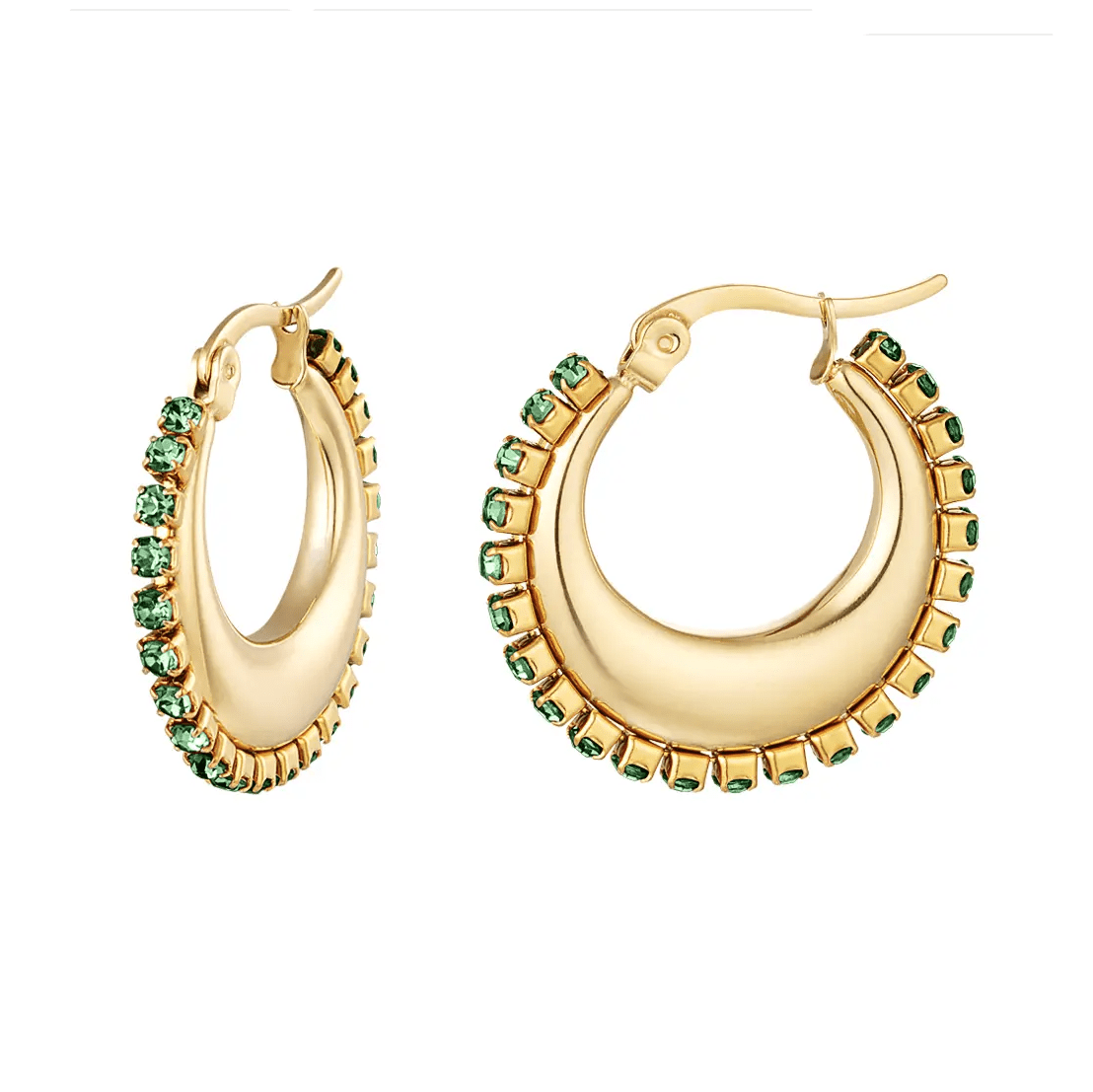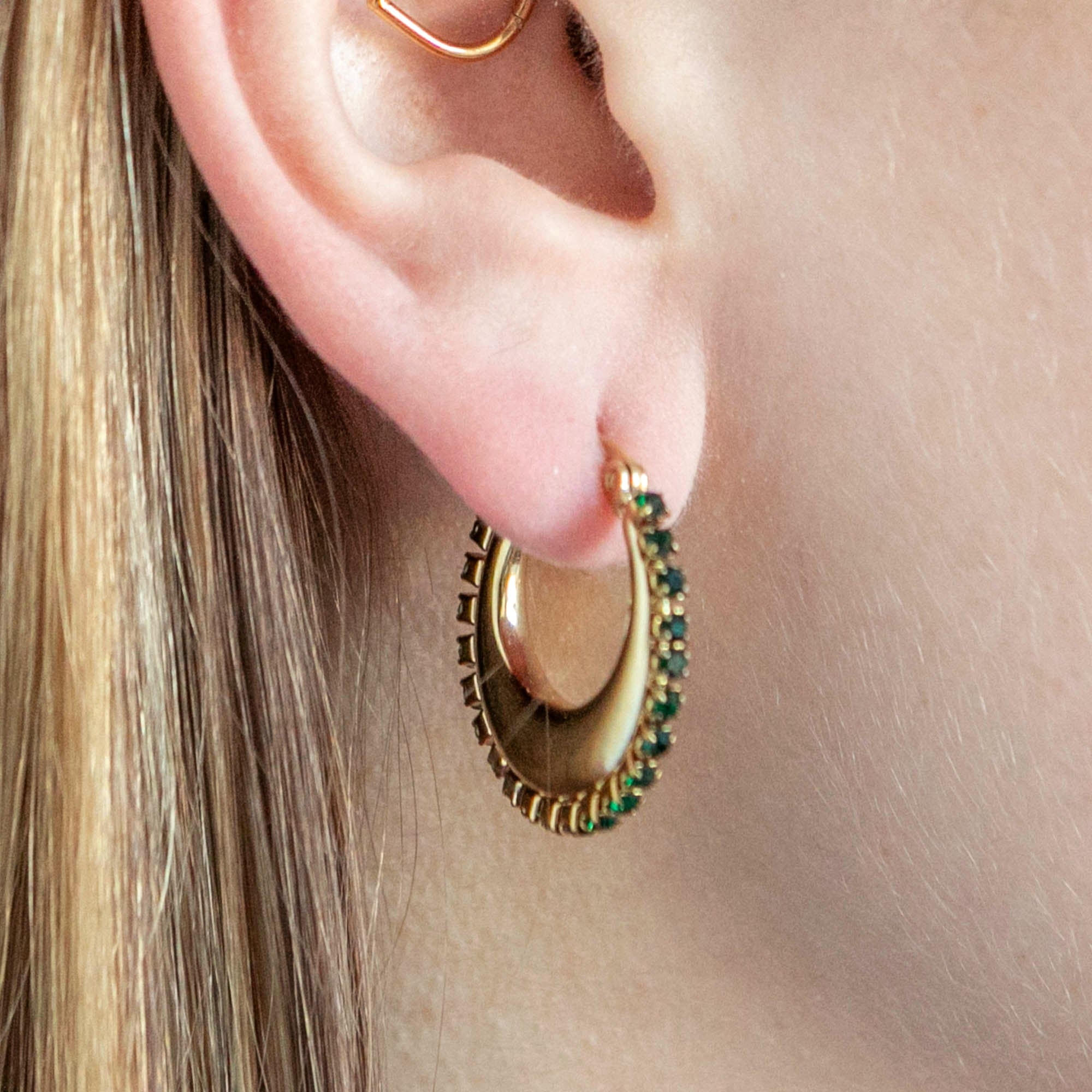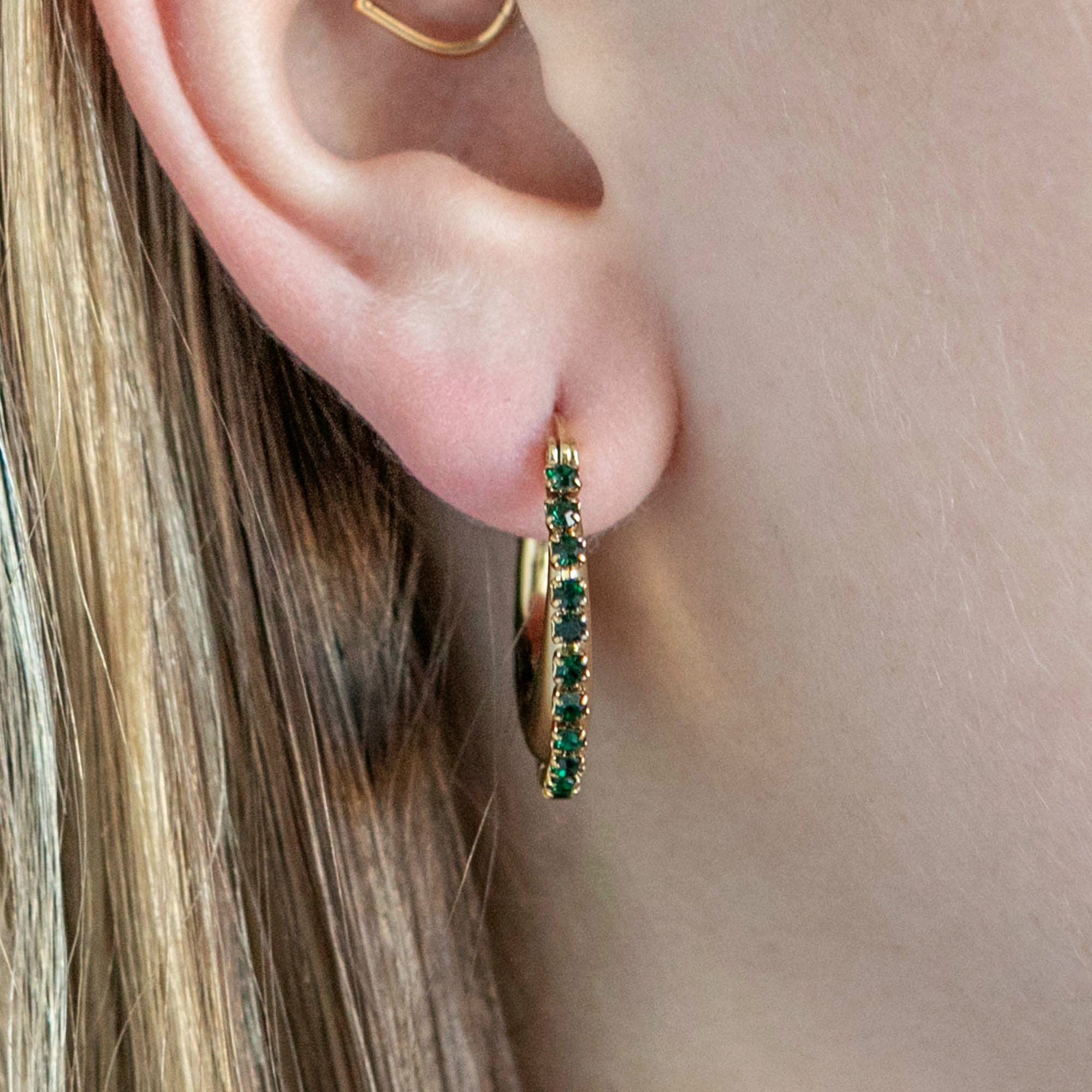 Description:
Curate your perfect ear with the addition of the Green Crystal Orb Hoop Earrings, a beautiful statement hoop.

Details:
18K Gold Plates Stainless Steel Design

Fade and Tarnish Resistant
18 Gauge/1mm Bar
Hoop Inner Diameter - 10mm
SOLD AS A PAIR

Delivery Information
We aim to process and dispatch your purchase within 72 business hours, orders placed on Friday after midday
will be processed the following business day.

UK Delivery Times
Standard Royal Mail Delivery please allow 3 to 5 working days, all purchases are dispatched in packaging which will fit through a standard letterbox. Parcels are scanned at delivery and a GPS map is provided by Royal Mail. Next Day Delivery by Royal Mail, orders must be made by midday.

EU Deliveries
As of the 1st July 2021 items will be shipped using Royal Mail International Tracked. Duty, VAT and Customs will be the responsibility of the customer. Customs charges range from 15% to 26% dependent on which EU states you preside.

International Deliveries 
As standard we ship parcels Royal Mail International Tracked which is a customer tracked service and will allow you to access tracking information via the Royal Mail portal. Please contact us for alternative carrier information, times may vary depending on the destination country.

All orders both UK and international are delivered by Royal Mail.

We ask that you ensure that you provide the correct address details when purchasing, checking that the correct
postcode and house number are included. We cannot amend the address once dispatched and alterations to the address can only be made if notified within an hour of your purchase. If the package is returned to us
because the address given was incorrect, we will ask that you pay for the item to be sent again. We accept no responsibility for packages that are signed for by someone other than the addressee.
Returns Policy
In the interest of hygiene we do not accept returns or refunds on pierced earrings or body jewellery. This policy is for the protection and health of the consumer. Please read the product description carefully, understanding the sizing, gauge and materials used as well as any metal sensitivities. By purchasing these products you understand that the sale is final.
All non piercing products we are happy to accept returns or exchanges within 28 days of purchase. All items must be unworn, in their original packaging with proof of purchased attached. Refunds and exchanges can take up to 14 days to be processed.
Caring For Plated Earrings
To help protect the plating, we recommend that you remove your earrings when you shower and take part in heavy exercise. Swimming in the sea or a chlorinated swimming pool as this may degrade the plating. Avoid spraying perfume, applying creams or any other liquids directly onto your earrings, acids and chemicals in these products can cause the plating to degrade more quickly. Plated products lose their luster and fade in time however can last for up to two years following our care instructions.
Caring For Solid Gold Earrings
Solid gold earrings will not tarnish but may discolour
slightly when in contact with acids and alkaline solutions from hair and facial products. This discolouration can be removed when cleaning and full colour and shine will be restored.
How to Store Earrings
Store earrings in a box with little moisture is key to the longevity of plated pieces, ensure all oils or build up is removed before storing. Ideally earrings should be storage individually to avoid becoming tangled.
Cleaning Earrings
To keep your earrings bright and remove the build-up of dirt and premature tarnish I recommend using a polishing cloth. Rub the piece in one direction rather than circular motions. Do not use and chemical cleaners or gels on plated products